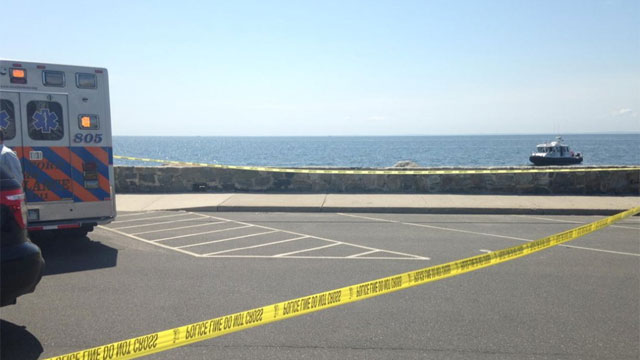 Stratford police and EMS are on scene by the Lordship seawall after a body washed up on shore. (WFSB)
STRATFORD, CT (WFSB) -
The body of woman washed up on the shores of the Lordship section of Stratford on Monday morning, police said.
The discovery was made around 9:30 a.m. by the Lordship seawall, which is located near the intersection of First Avenue and Beach Drive.
Eyewitnesses told Police that the body of a woman in her 30s was found on the beach face down on the sand.
Stratford's mayor and the police chief were both on scene of the discovery.
Police have not identified the woman at this time. They are looking into missing persons reports from the surrounding area.
"We saw the Bridgeport Police boat screaming up the sound, I knew something was a miss," Sharon McCallum, of Stratford, said. "But, we weren't sure what was going on. I'm a little curious, so we got out the binoculars."
The Stratford Police Department said their investigation is "ongoing." Anyone with any information is asked to call the Stratford Police Department at 203-385-4100.
Stay with Eyewitness News on air and online for updates on this story.
Copyright 2016 WFSB (Meredith Corporation). All rights reserved.