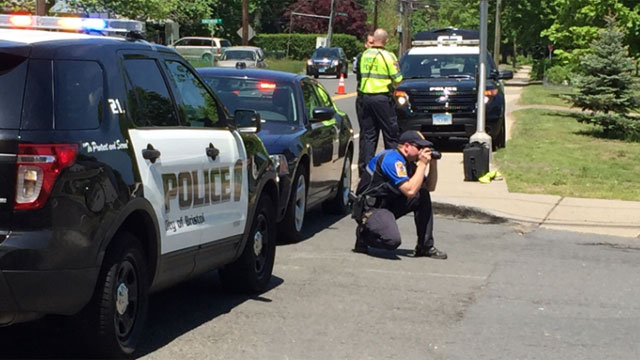 Bristol police investigating crash involving pedestrian. (WFSB)
BRISTOL, CT (WFSB) -
A man was seriously injured after police said he was hit by a car while crossing the street in Bristol on Monday morning.
A man and woman were walking northbound on West Washington Street when trying to cross at the intersection near King Street just before 11 a.m. While crossing the street, police said a vehicle attempting a left turn onto King Street hit the man.
Police said the unidentified man suffered a "serious head injury" and was rushed to a hospital in Hartford. Police said the woman was not hit by the vehicle.
West Washington Street was closed during the police investigation.
Police said the vehicle involved in the crash stayed at the scene.
Anyone with information about this incident is asked the Bristol Police Department at 860-584-3011.
To see more photos of the incident on your mobile device, click here.
Copyright 2016 WFSB (Meredith Corporation). All rights reserved.