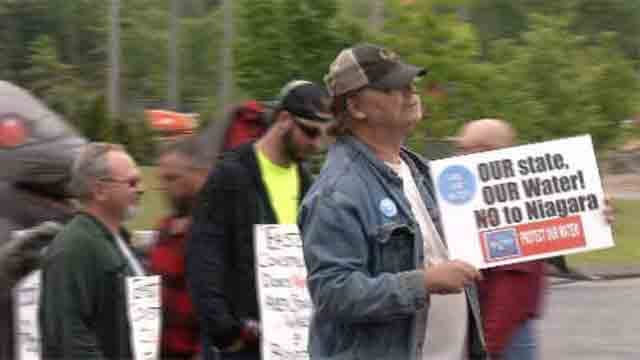 Union workers protest at future water bottling site (WFSB)
BLOOMFIELD, CT (WFSB) -
Picket lines formed outside the site of the future Niagara Water Bottling plant in Bloomfield on Tuesday.
Union workers were demonstrating with an inflatable rat and pig on Woodland Avenue with signs reading "Eastern Constructions Bad 4 Bloomfield."
Union workers are upset that the contractors at Niagara have brought in workers from out of state.
"When you have out of town workers, out of town companies, they don't reinvest in Connecticut. We all know there is an economic issue here in Connecticut today. The biggest problem is we want local people to go to work," said Brett Wells, of Iowa Workers Local 15 union.
Niagara said it's plant will only use 2 percent of the daily water supply and it will pay the same rate as other customers.
Construction has already started on the plant.
The project will create about 120 jobs.
A state bill, that would have limited water the facility could use and require state regulation, failed in the legislature this year.
Copyright 2016 WFSB (Meredith Corporation). All rights reserved.