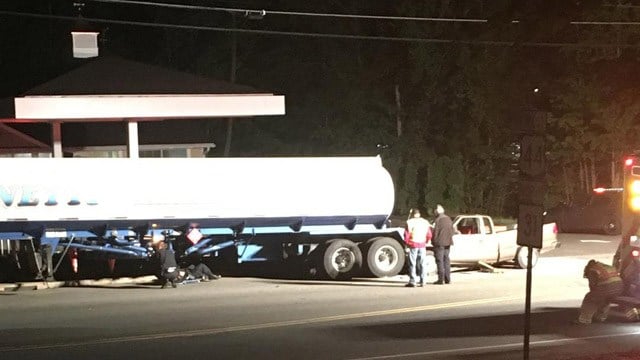 One man is dead following a crash on Route 44 in Coventry. (WFSB photo)
COVENTRY, CT (WFSB) -
A deadly crash closed a section of Route 44 in Coventry early Wednesday morning.
According to police, the two-vehicle crash occurred at 11:15 p.m. Tuesday and involved a Chevy S-10 pickup truck and a fuel delivery tanker truck owned by Ginnetti Petroleum Transporters of East Haven.
Further investigation revealed the tanker had stopped in the eastbound travel lane of Route 44 to prepare to enter a private parking lot in order to make a delivery of fuel at an adjacent address when it was struck from behind by the pickup truck. The contents of the tanker were unaffected by the collision, police said.
Investigators said the operator of the pickup truck, the lone occupant of the vehicle, was pronounced dead at the scene. The name of the driver is being withheld while police notify his family.
The operator of the tractor trailer tanker truck was uninjured
Route 44 was closed for several hours while the collision was investigated by Metro Traffic Services Accident Reconstruction Team.
Though the road reopened, the crash remains under investigation as the cause has not been determined.
Anyone who witnessed the collision is asked to contact the Coventry Police Department at 860-742-7331.
Copyright 2016 WFSB (Meredith Corporation). All rights reserved.