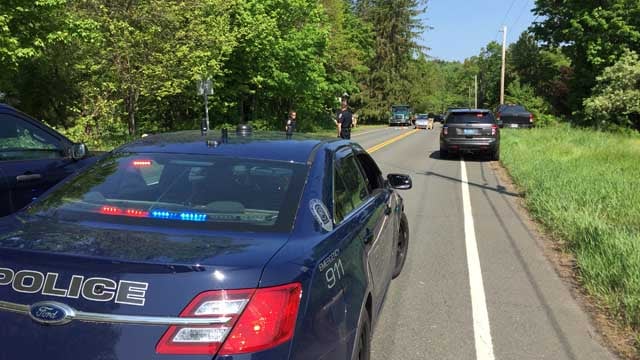 A person was struck by a vehicle on Granville Road in Granby, police said. (WFSB photo)
GRANBY, CT (WFSB) -
A landscaper was taken to the hospital after being struck by a motor vehicle on Wednesday morning.
Windsor resident, 23-year-old Evan Jackson was crossing Route 189, which is also known as Granville Road, from west to east when police said he was hit by a car just before 9 a.m.
Jackson suffered "serious injuries" and police said he was taken to Hartford Hospital via ambulance. Police said the injuries suffered were not believed to be life threatening injuries.
Police said Granby resident, 19-year-old Michelle Allen, of Windsor, was driving the vehicle. Allen told police that he was uninjured in the crash.
The North Central Municipal Accident Reconstruction Team was called to process the scene. They are assisting the Granby Police Department with their investigation.
Route 189 was closed until noon.
Copyright 2016 WFSB (Meredith Corporation). All rights reserved.