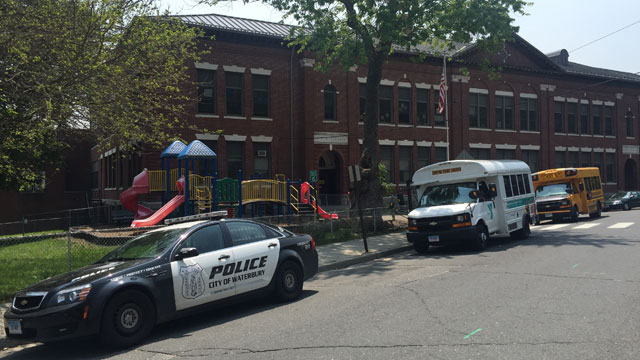 Police were at Diggs Elementary School after bomb threat. (WFSB)
WATERBURY, CT (WFSB) -
Students and staff at an elementary school in Waterbury was evacuated on Wednesday morning due to a bomb threat.
The evacuation at Diggs Elementary School took place around 10 a.m.
After police searched the building with a state police K9, students were allowed back inside around 10:45 a.m.
During the search, students were bused to Kennedy School where police said they could use the bathroom and get food and water.
Officers are standing by at Diggs Elementary School and at Kennedy School.
School personnel are helping to get parents, who want to pick up their children, to the students.
An ambulance was called to the scene where two students were having medical issues.
Copyright 2016 WFSB (Meredith Corporation). All rights reserved.