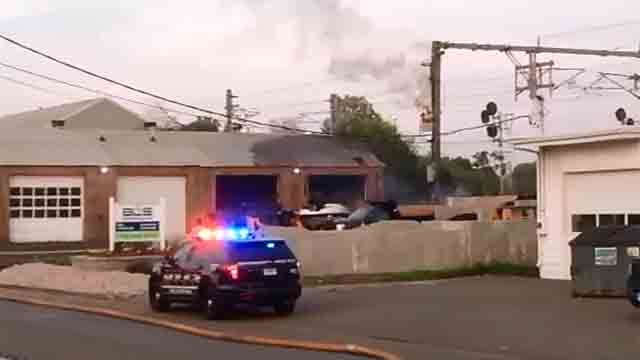 Transformer along Branford train tracks explodes (WFSB)
BRANFORD, CT (WFSB) -
A transformer in Branford exploded on Thursday evening, along the train tracks on Meadow Street.
Fire officials said the transformer likely exploded because of the hot temperatures.
"I was about to take my dog out for a walk and I heard a loud pop. It actually sounded like a canon," said Ali Dematteo.
The fire extended to a nearby building, a boat and a truck. The boat was destroyed and damage to the building and truck is extensive, crews estimating about $10,000 in damage.
"We did have a small oil leak. We reached out to DEEP and they're en route to rectify that problem," said Branford Assistant Fire Chief Shaun Hefferman. "Its not completely uncommon especially as we start to see the warmer weather we do start to have some electrical problems and do have some transformer fires."
Crews worked with Amtrak to turn off electricity so that they could work on putting out the fire.
Amtrak officials said there is congestion for trains in the area. One train carrying 208 people from New York to Boston is without power at this time. Those passengers are being transferred to another train.
No injuries were reported.
Stay updated with Eyewitness News as more information becomes available.
Copyright 2016 WFSB (Meredith Corporation). All rights reserved.