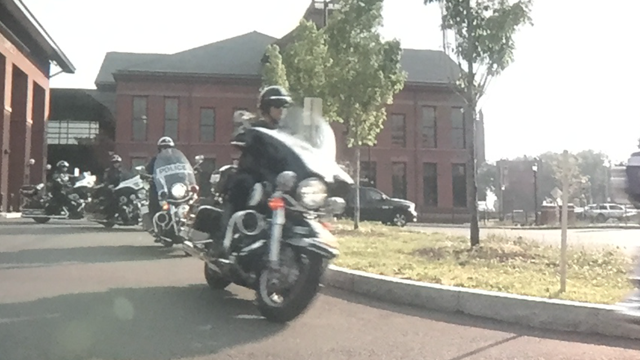 Hartford officers headed to Massachusetts to attend funeral services for a slain MA officer. (WFSB photo)
HARTFORD, CT (WFSB) -
Police from Hartford said they'll be joining a sea of blue gathering in Massachusetts to honor a fallen officer.
Ronald Tarentino was killed during a traffic stop in Auburn Sunday.
Hartford police Deputy Chief Brian Foley told Eyewitness News that a group of Hartford officers left at 7:15 a.m. for Charlton, MA. He called it a solemn, but important ride to take.
Tarentino was shot in the back by who investigators called a "career criminal."
Later that evening, the suspect, Jorge Zambrano, exchanged gunfire with police and was killed.
Thursday, hundreds of officers from all over New England paid their respects to Tarentino during his wake. Each badge was covered with black.
Tarentino served with the Leicester Police Department for seven years before taking the job in Auburn two years ago. He was a married father of three, according to the department.
His funeral is set to take place at St. Joseph's Catholic Church in Charlton, MA.
Copyright 2016 WFSB (Meredith Corporation). All rights reserved.