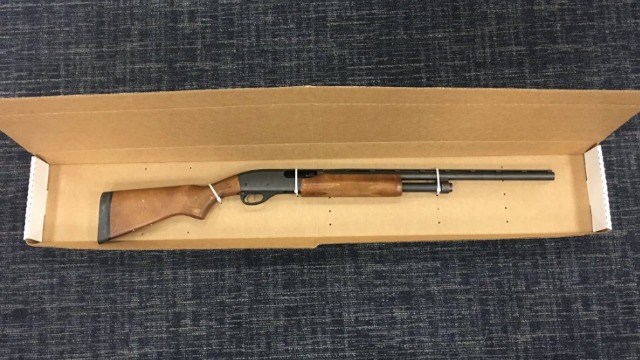 Police confiscated this rifle from Rodriguez. (WFSB)
HARTFORD, CT (WFSB) -
Police arrested a Hartford man Saturday night for illegally possessing a firearm.
Around 10 p.m. officers were dispatched to Franklin and Bond Street after a bystander overheard two people say they were going to get rifles.
Police found Angel Rodriguez, 33, fleeing on a bike.
Police said Rodriguez had a rifle sticking out of his backpack.
Officers followed him into a nearby parking lot, where he was taken into custody.
Rodriguez was found with a Remington 870 Express pump action 20 gauge shotgun.
Because Rodriguez is a convicted felon, he is not allowed to possess firearms.
He was charged with operating a bicycle without a headlight, interfering with police and criminal possession of a firearm.
Copyright 2016 WFSB (Meredith Corporation). All rights reserved.