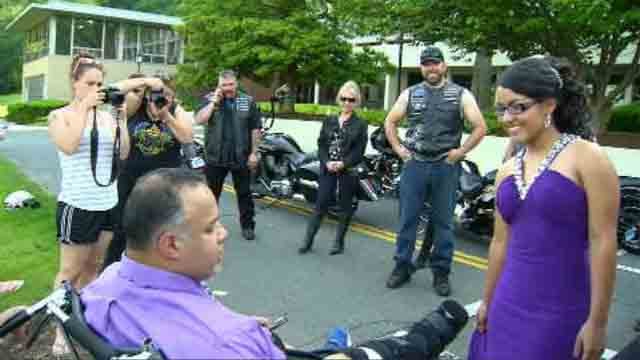 A proud dad was able to see her teen off to prom thanks to a local motorcycle club. (WFSB)
MERIDEN, CT (WFSB) -
A Meriden high school student had the chance to have her dad send her off to prom, thanks to a local motorcycle club.
Tito Rodriguez is recovering at the Masonicare Heath Center after suffering serious injuries in a motorcycle crash two weeks ago.
Thanks to a group of motorcyclists with hearts of gold, he was able to see his daughter on her prom night on Saturday.
The Law Dogs Motorcycle Club surprised Tito's daughter Kiara at her home on Saturday, and accompanied her to the Masonicare Health Center so that her dad could see her before prom.
Tito is a member of the Law Dogs Motorcycle Club, which is mostly made up of Connecticut law enforcement officers.Tito is a youth service officer for the state.
The club also surprised Tito with a monetary gift to help in the recovery.
Copyright 2016 WFSB (Meredith Corporation). All rights reserved.