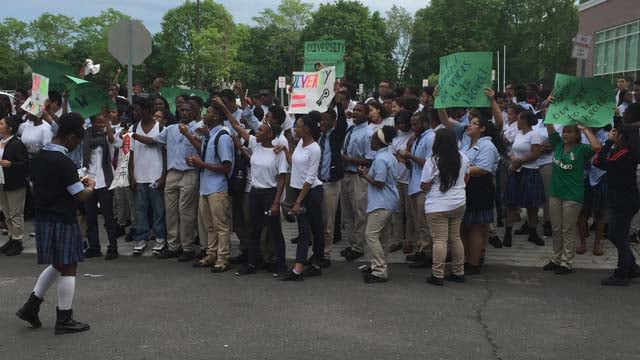 Students at the Achievement First Amistad High School held an anti-racism rally on Tuesday. (WFSB photo)
NEW HAVEN, CT (WFSB) -
A student-led anti-racism rally in New Haven sought support from the community and parents on Tuesday.
It happened at the Achievement First Amistad High School on Dixwell Avenue.
The students said they held the rally because their school is predominantly populated by students of color and there is a lack of diversity on the staff.
They claimed that race has been an issue between staff and students, and between staff and staff. They said some students even had to be pulled from the school because of it.
Students said a wave of minority teachers are leaving and as it stands there will be fewer than six non-white educators at the school next year.
Achievement First runs the school and a representative said they are proud of the students who protested and are working on hiring more minority teachers.
The organization said 17 percent of their teachers across five New Haven schools are non-white, and they are trying to improve.
"We are a school that focuses on developing student leaders, and today's rally is an example of their leadership – we are proud of our students. Staff diversity is a priority at AF Amistad High and across Achievement First, and we are proud of the progress we've made," said Dacia Toll, Achievement First CEO.
Copyright 2016 WFSB (Meredith Corporation). All rights reserved.