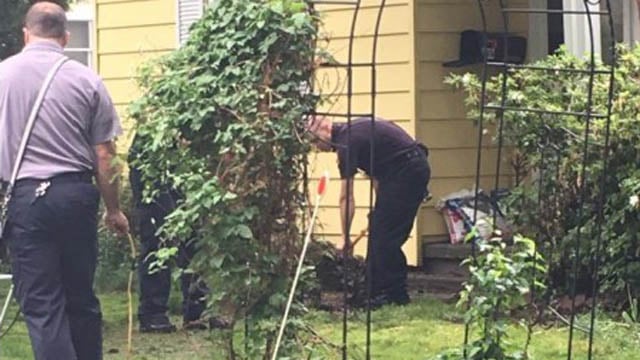 Milford firefighters helped clean up a veteran's yard on Memorial Day after his wife had to be taken to the hospital. (Milford Fire Dept. photo)
MILFORD, CT (WFSB) -
Firefighters in Milford said they responded to a medical call at a veteran's home on Memorial Day.
They said the veteran's wife was in need of medical help, which was given while she was transported to a local hospital.
The emergency crew of Lt. AJ Murphy, firefighter Eric Ouellette and firefighter Justin Edo recognized that the victim's husband was a veteran by the T-shirt and hat he was wearing.
They also realized that yard work was incomplete at the couple's house.
Firefighters said the decided to complete the task before clearing the scene.
"We simply wanted to do something good for the veteran, so that he may return home to find the work complete, and focus the attention on his wife," Murphy said in a news release.
Copyright 2016 WFSB (Meredith Corporation). All rights reserved.