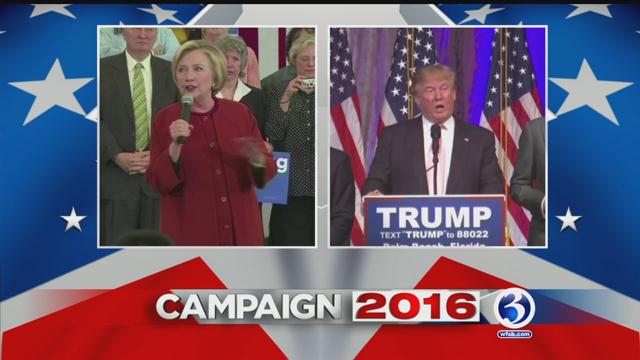 Quinnipiac University poll of likely presidential candidates shows Hillary Clinton with a slight lead over Donald Trump. (WFSB)
HAMDEN, CT (WFSB) -
The latest Quinnipiac poll of likely presidential candidates shows Hillary Clinton with a slight lead over Donald Trump.
The poll released today shows Clinton with a lead of 45 to 41 percent among likely voters.
"This is a very tight race that will divide Democrats and Republicans, the young and the old, white, black and Hispanic voters - and husbands and wives - in the months ahead," Tim Malloy, assistant director of the Quinnipiac University Poll, said on its website.
Bernie Sanders has an even bigger lead over trump, at 48 to 39 percent, but he still trails Clinton among democrats, 53 to 39 percent.
"Sen. Bernie Sanders can take solace in the fact that he leads Donald Trump, but the cold hard truth is that his own party favors Hillary Clinton by a whopping 13 points," Malloy said.
The poll shows Libertarian Party candidate Gary Johnson getting 5 percent while Green Party candidate Jill Stein got 3 percent.
To learn more about the poll, click here.
Copyright 2016 WFSB (Meredith Corporation). All rights reserved.