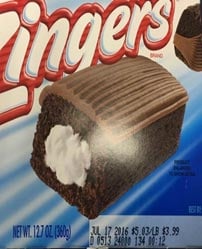 WASHINGTON, D.C. (WFSB) -
Hostess Brand is recalling over 700,000 cases of snack cakes and donuts because they could possibly contain flour which is part of a nationwide recall.
Hostess said in a release they use Grain Craft flour to make several of their products. That flour is now being recalled by Grain Craft because it may contain low levels on undeclared peanut residue.
Those with allergy or severe sensitivity to peanuts run the risk of a life-threatening allergic reaction is exposed.
Out of an abundance of caution, Hostess elected to recall several products. To date, Hostess says they have been made of two allergic reactions related to the recalled products.
The recall involves several popular snacks including Ding Dongs, Zingers and Chocolate Donuts. A full list of the recalled products, their UPC number and Best Buy Date can be found online here.
Copyright 2016 WFSB (Meredith Corporation). All rights reserved.