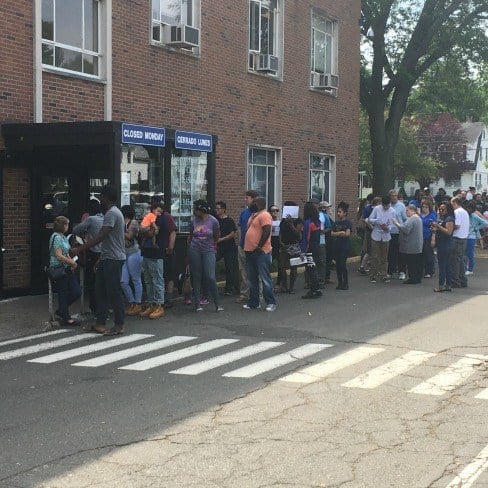 Line outside the Wethersfield DMV Saturday after a computer problem caused issues with registration.
WETHERSFIELD, CT (WFSB) -
A computer issue at the Department of Motor Vehicles Saturday morning has left Connecticut residents attempting to register vehicles waiting in long lines.
According to DMV spokesperson Bill Seymour, the problem is only impacting those looking to register vehicles.
Those waiting at the Wethersfield DMV office told Eyewitness News they have been waiting in line for over three hours.
The same was true in Waterbury where another woman said she waited over 4 hours before finally leaving.
Seymour said the issue is causing computers to freeze up about halfway through the transaction forcing them to be restarted.
DMV officials said they were working on trying to rectify the issue and would remain open as scheduled until 12:30 p.m. and they would stay to serve anyone who was in line prior to close.
Copyright 2016 WFSB (Meredith Corporation). All rights reserved.