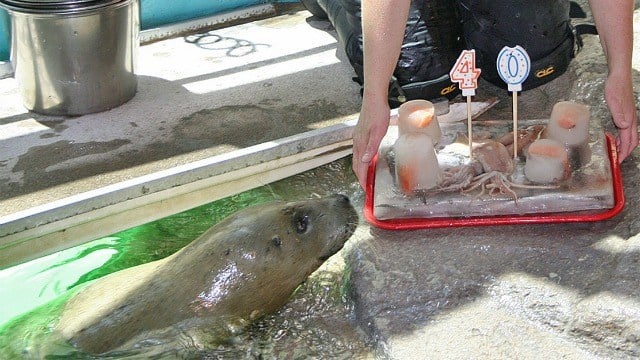 Susie celebrating her 40th birthday in 2010. (Maritime Aquarium)
NORWALK, CT (WFSB) -
The Maritime Aquarium mourned the loss of one of the oldest seals in the country Saturday.
The Norwalk-based aquarium said Susie, a 43 year-old harbor seal, died of unknown causes.
The seal would have turned 44 on June 20. She is believed to be the second oldest seal to live in captivity.
The oldest was a gray seal at the New York Aquarium who died in 2010 at 44.
Susie had been with the Maritime Aquarium since it opened in 1988.
The aquarium said she was rescued in 1973 in Novia Scotia by a graduate student at the University of Rhode Island.
She had been abandoned by her mother as a baby.
Susie also participated in lab development for heartworm medication used on dogs and seals.
A necropsy will be conducted at the University of Connecticut.
Copyright 2016 WFSB (Meredith Corporation). All rights reserved.