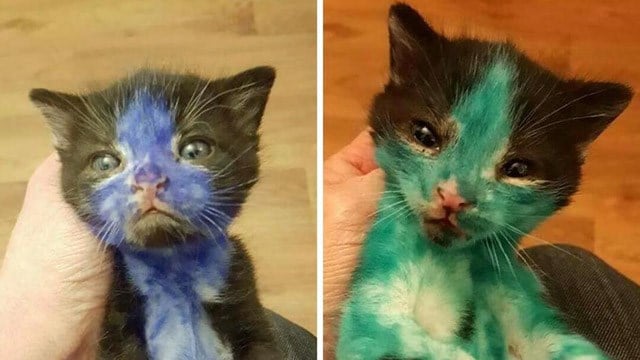 (BARC photo)
BRIDGEPORT, CT (WFSB) -
An animal rescue group in Bridgeport put out a warning about kittens that were marked as bait for dog fights.
The Bridgeport Animal Rescue Crew, or BARC, posted to its Facebook page on Saturday a photo of two kittens were colored with permanent markers. It said they were colored that way so people could bet on the color of the cat they thought would survive the longest.
"This is what can happen when kittens are given for free or in the hands of the wrong people," the post said.
BARC called such rescues "common" and even happen in Bridgeport.
It released the photos as part of a public awareness plea.
"And only by all of us advocating and discouraging free adoptions by anyone or any organization can we make a dent in this problem," the post continued. "They rarely will pay for a cat or kitten."
BARC said it's hoping that the kittens don't suffer poisoning from the markers.
Copyright 2016 WFSB (Meredith Corporation). All rights reserved.