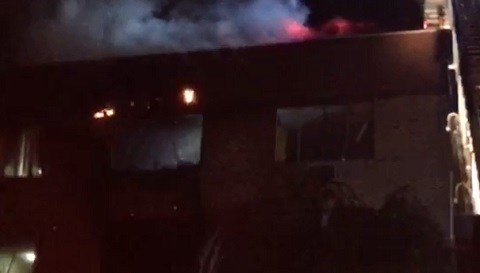 (WFSB photo)
HARTFORD, CT (WFSB) -
Eight people were rescued from a large apartment fire in Hartford on Monday night.
Crews battled a two-alarm fire at an apartment building on Laurel Street.
The fire started shortly after 9 p.m. on Monday evening.
According to the Deputy Chief, several people were trapped in the building because of hallways filled with smoke. Everyone was rescued by climbing down a ladder.
No injuries were reported.
"Firefighters did a good job at getting ladders to the second and third floor windows. The fire conditions and smoke conditions weren't as such that we could take the people through the hallways, so we had to bring them out of the exterior windows. Job well done by the firefighters," said Chief Reginald Freeman.
Crews are still working to get the fire under control. There is no word on the extent of the damage to the building.
The fire is currently under investigation.
Copyright 2016 WFSB (Meredith Corporation). All rights reserved.