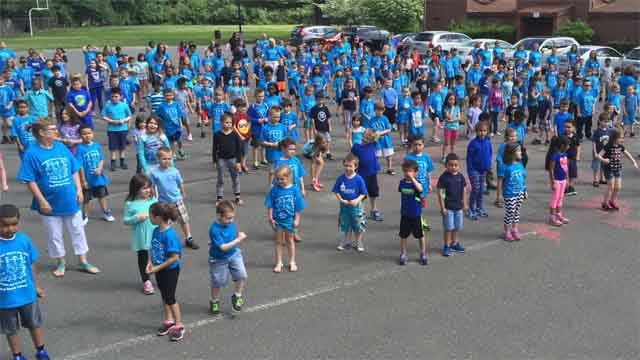 Hundreds of students at Hop Brook Elementary School are ending the school year with a new twist on Taylor Swift's big hit. (WFSB)
NAUGATUCK, CT (WFSB) -
Hundreds of students at Hop Brook Elementary School are ending the school year with a new twist on Taylor Swift's big hit.
They hope she doesn't mind, because they changed the words to get a certain point across.
The new lyrics and smooth dance moves to "Shake It Off" bring a message that bullying won't be tolerated by the kindergarten through fourth-graders.
"I was a bit nervous but now I'm not," said fourth grader Ireland Starziski.
The students were so excited about the song, they even sent a letter to Taylor Swift, and while they wanted her to show-up, they're now hoping she'll at least see what they did.
"It was so much fun and I just was waiting for - I was just waiting to do it for weeks," said fourth grader Mac Starziski.
The teachers couldn't be prouder of the kids, not only because they learned the words and the routine, but they're also committed to put a stop to bullying when they see it.
Mobile users can see the full video by clicking here.
Copyright 2016 WFSB (Meredith Corporation). All rights reserved.