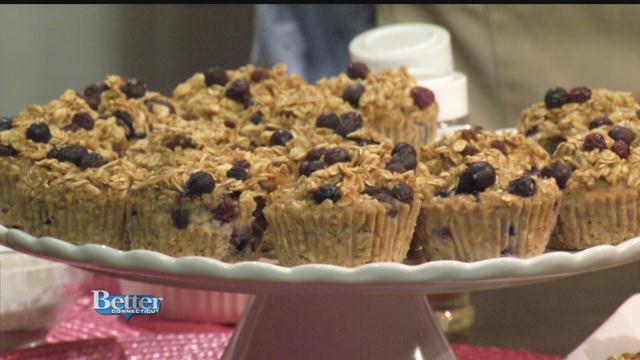 Maria Sanchez of Sweet Maria's in Waterbury is here with a healthy and delicious snack or meal you can take with you on the go! Click the link on the video for more information.
Baked Oatmeal
Baking oatmeal in a cupcake pan is a great way to make a take-along breakfast in advance. Plus, it's perfect for portion control. This recipe is so flexible. You can add whatever spices or fruit you like.
2 eggs
1/2 cup applesauce
1/2 cup brown sugar
2 teaspoons vanilla
2 teaspoons cinnamon
1 teaspoon nutmeg
pinch of salt
1 1/2 cups milk
3 cups oats
1/2 cup raisins ( or other fruit)
Preheat oven to 350 F.
In a medium bowl, whisk eggs, applesauce, brown sugar, vanilla and spices. Add oats , milk and raisins. Let sit 15 to 20 minutes.
Scoop mixture evenly into cupcake pans.
Bake 20 to 25 minutes or until lightly browned and firm.
Serve warm or cool.
Can be made 2 to 3 days in advance. Refrigerate any leftovers. Re-heat in microwave for an easy take-along breakfast.
Makes 10