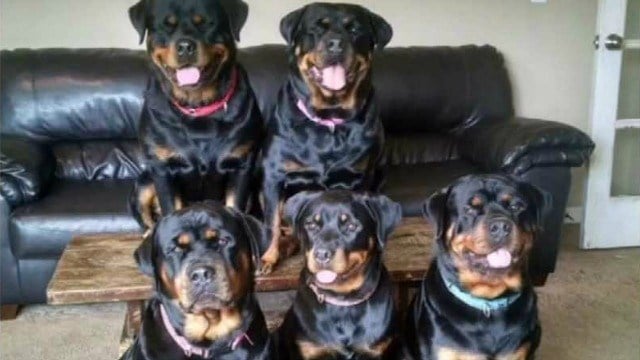 Two rottweilers involved in a serious mauling were euthanized Friday afternoon. (WFSB)
PLAINFIELD, Conn. (WFSB) -
Two rottweilers involved in a violent mauling in Plainfield were euthanized Friday afternoon.
In 2014, a home healthcare aide was mauled by a four and five year-old pair of rottweilers while she was working as a home healthcare aide.
Police said the victim suffered life threatening injuries that altered her life.
Jenna Allen, 30, and Corey Beakey, 30, of Plainfield was charged with reckless endangerment in the 2nd degree, two counts of possession of a nuisance dog and five counts of failure to license a dog.
Plainfield police and animal control determined that the dogs were a threat to society and ordered them to be euthanized.
Allen and Beakey refused. A hearing was then conducted by the state Department of Agriculture.
In March, the state Commissioner of Agriculture decided that the dogs would be euthanized.
Plainfield police said they and a state veteranarian euthanized the dogs around 3 p.m. Friday
Copyright 2016 WFSB (Meredith Corporation). All rights reserved.