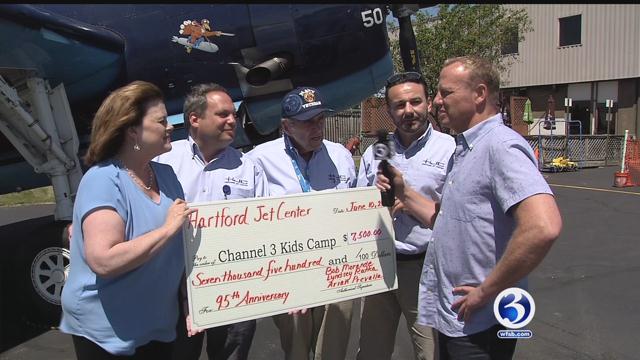 Brainard Airport donated $7,500 to Channel 3 Kids Camp. (WFSB)
HARTFORD, CT (WFSB) -
A check of $7,500 was given to the Channel 3 Kids Camp from Brainard Airport in Hartford on Friday afternoon.
WFSB anchor Scot Haney met up with our friends from the airport and the Channel 3 Kids Camp ON Friday.
Brainard Airport was celebrating 95 years in business with a special event this weekend.
"We decided to put together this whole event for the city of Hartford, for the surrounding towns, and we decided to raise some money for the kids' camp," Bob Morande with Hartford Jet Center said.
The money will go towards last minute supplies and serving children with special needs.
Copyright 2016 WFSB (Meredith Corporation). All rights reserved.