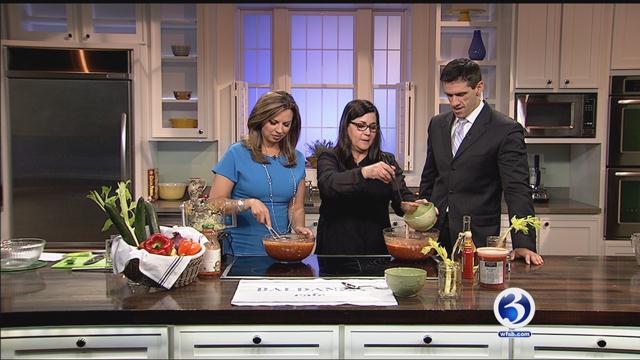 Baldanza Cafe shared delicious gazpacho recipe. (WFSB)
ROCKY HILL, CT (WFSB) -
Angela stopped by our studio Saturday to share Baldanza Cafe's delicious gazpacho. You can try it yourself following the recipe below.
Ingredients:
2 hothouse cucumbers, halved and seeded, but not peeled
4 red bell peppers, cored and seeded
8 plum tomatoes
2 red onion cubed
4 large garlic cloves,
46 ounces organic tomato juice (1 1/2 quarts)
1/2 cup white wine vinegar
1/2 EVOO
1/2 tablespoon kosher salt
1 ground jalapeno pepper
Directions:
In a food processor fitted with the grated attachment process the cucumbers they should come out in a matchstick shape add to a large container. Change the blade of the food processor to the regular blade and add bell peppers, then add them to the container with the cucumber repeat this process with the onion and tomato. Finely mince the garlic and add it to the mixture. Add the organic tomato juice, white wine vinegar, EVOO, salt and jalapeno pepper. Mix all ingredients well and let sit in refrigerator until chilled, about 3 hours.
This will make about 4 quarts of gazpacho.
Copyright 2016 WFSB (Meredith Corporation). All rights reserved.