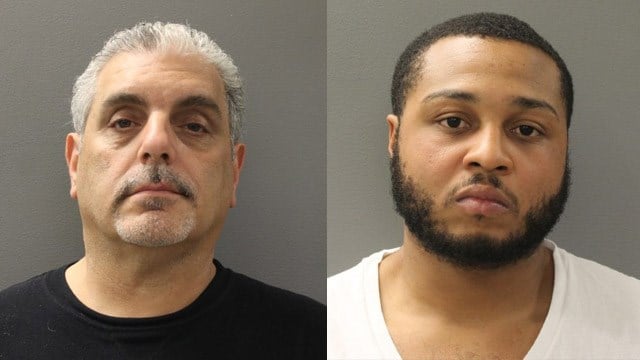 Edward Cavallaro and Mark Davis. (Hamden police photos)
HAMDEN, CT (WFSB) -
A traffic stop in Hamden led to two arrests on drug and weapons charges, according to police.
Officers said Edward Cavallaro, 53, was in possession of crack cocaine and his passenger, 30-year-old Mark Davis, illegally had a .40 caliber semi-automatic handgun.
A further search revealed 20 wax folds of heroin.
Police said they saw Cavallaro's vehicle traveling at a high rate of speed on Woodin Street Friday around 10 p.m.
Cavallaro, of North Haven, was charged with two counts of possession of narcotics and possession of narcotics with intent to sell. He was held on a $50,000 bond.
Davis, of New Haven, was charged with possession of narcotics, possession of narcotics with intent to sell, weapons in a motor vehicle, criminal possession of a firearm, carrying a pistol without a permit and altering a serial number on a firearm. He's bond was set at $100,000.
Both will face a judge in Meriden on June 28.
Copyright 2016 WFSB (Meredith Corporation). All rights reserved.