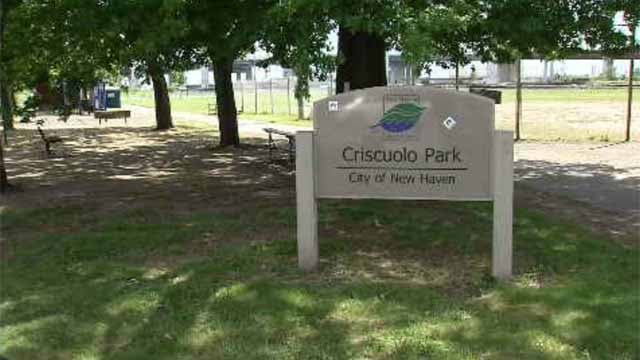 Criscuolo Park (WFSB)
NEW HAVEN, CT (WFSB) -
Police are searching for a man that struck a 4-year-old boy with his dirt bike while the child was playing in a park in New Haven on Sunday afternoon.
The unidentified man was recklessly driving a small red and black dirt bike around 4 p.m. when police said he hit a child on the sidewalk at Criscuolo Park. The dirt bike rider fled the area and headed northbound on James Street.
A witness described the suspect as a heavy-set man with curly hair and a reddish colored beard. He was believed to be wearing a black shirt and black cargo shorts.
EMTs and officers were called to the scene and the unidentified boy was transported to Yale-New Haven Hospital Pediatric Emergency. The boy's injuries to his lower leg were not life threatening, police said.
Police said they have had no success in finding the rider or any video footage of him.
The New Haven Police Department is asking for the public's help. Anyone with information about this suspect or where the bike may be located are asked to call the police at 203-946-6304 or 203-946-6316.
Copyright 2016 WFSB (Meredith Corporation). All rights reserved