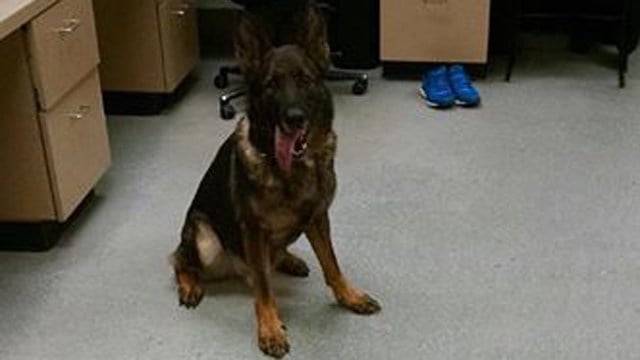 Cyrus. (Trumbull police Facebook photo)
TRUMBULL, CT (WFSB) -
Police in Trumbull said one of their K9s unexpectedly passed away at its home overnight.
Cyrus was an 8-year-old German Shepherd and a member of the Trumbull Police Department for almost seven years. The K9 assisted in making a number of felony arrests, found a number of missing persons and aided in drug busts,
On Tuesday, Cryus received a police escort to Mobile Veterinary Clinic at which he was cared. Officers, other personnel and clinic staff saluted him along the way.
Police posted a picture and videos to their Facebook page.
One photo included Cyrus proudly sitting above a sizable heroin bust. Cyrus was recently credited with locating 12 and a half kilos of heroin during a motor vehicle stop and had recently achieved a national certification during a several month long program in which he was trained in evidence recovery, urban tracking, building searches and advanced tactical operations.
"Most importantly, he was a great partner to Officer RJ Carlson and a beloved member of both the Carlson Family and the TPD Family," police posted. "He will be greatly missed."
Police did not release a cause for Cyrus's death.
Copyright 2016 WFSB (Meredith Corporation). All rights reserved.