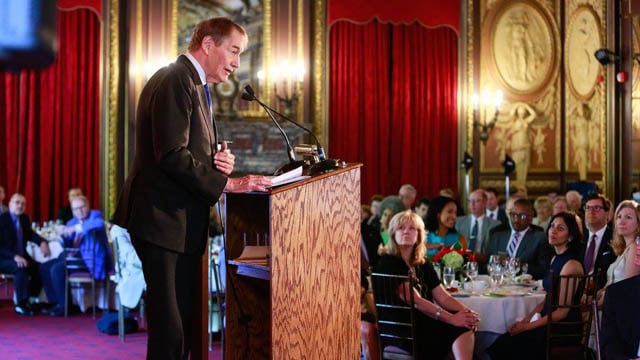 Charlie Rose accepts the Fred Friendly First Amendment Award from Quinnipiac University. (Quinnipiac University Facebook photo)
MANHATTAN, NY (WFSB) -
News personality Charlie Rose was honored by Quinnipiac University earlier this week.
Nearly 200 journalists from around the country gathered at the Metropolitan Club in Manhattan to watch Rose receive the "Fred Friendly First Amendment Award."
"I can't think of a better way to spend life than in journalism," Rose said. "They have more tools and technology, and we understand more today."
The award is given out by Quinnipiac's School of Communications.
Rose is its 23rd recipient, according to Quinnipiac officials.
Rose is an anchor and executive editor for PBS and co-hosts CBS This Morning.
Copyright 2016 WFSB (Meredith Corporation). All rights reserved.