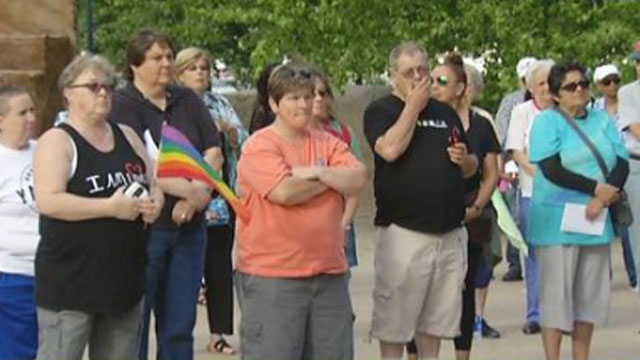 Dozens gathered for a vigil for Kim Morris and the other Orlando shooting victims. (WFSB)
TORRINGTON, CT (WFSB) -
U.S. Sen. Chris Murphy along with state and local leaders were expected to attend a vigil honoring all of the victims of the Orlando shooting including Connecticut native Kim Morris.
The vigil for the 37-year-old Torrington native was held at Coe Park on Friday night.
Morris died during the shooting at Pulse nightclub early Sunday morning. The event was organized by Morris' friends along with the local Sons and Daughters of Italy.
They wanted Murphy to be at Coe Park because he has been so passionate about changing America's gun laws. Murphy was part of this week's filibuster on the Senate floor where he demanded a vote on possible firearm legislation. But, Morris' friends said Friday night was not about politics, but about honoring Morris and every other victim of gun violence.
"I think it helps a lot with the healing process cause it shows love is alive unity is alive strength is there," Shawn Brighenti, who is friend of Kim Morris, said.
Murphy will address the crowd a little bit later on Friday night.
Eyewitness News will have more at 11 p.m.
Copyright 2016 WFSB (Meredith Corporation). All rights reserved.