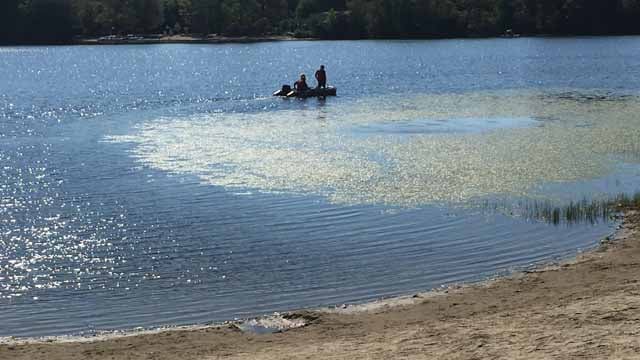 Crews are searching for the body of a man whose canoe capsized on Saturday. (WFSB)
CHESTER, CT (WFSB) -
Emergency officials recovered the body of a missing boater at Cedar Lake in Chester on Sunday morning.
Multiple dive teams were involved in the search for him, which started at 8 p.m. on Saturday after a canoe capsized.
The man was identified as 48-year-old Paul Haney from Manchester. He was with a woman, identified as Carol Bremser of Chester, when the boat capsized.
Bremser was rescued by two Good Samaritans and was taken to an area medical clinic for treatment.
"She was able to give us a very good description of who we're looking for, the body type, what he was wearing, so that we could get an accurate depiction," said Lt. James Grzybowski of the Chester Hose Company.
Officials said the man and woman were not wearing life jackets.
Side sonar technology was brought in to help in the search. Officials said they area where they believe the man went into the water is about 30 feet deep.
Officials said they are still looking into what caused the canoe to flip over.
Stay updated with Eyewitness News as more information becomes available.
Copyright 2016 WFSB (Meredith Corporation). All rights reserved.