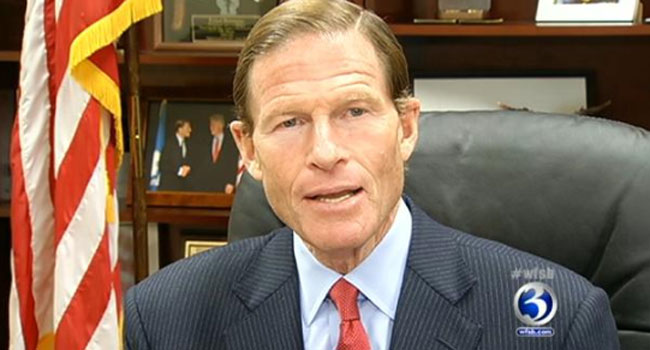 Sen. Richard Blumenthal (WFSB file photo)
HARTFORD, CT (WFSB) -
A senator from Connecticut wants expanded education benefits for children and spouses of fallen military service members.
Sen. Richard Blumenthal said he'll be at the Legislative Office Building in Hartford Monday to push for the Veterans First Act.
Blumenthal said he'll be joined by Sarah Greene of Branford, who list her husband after 9/11 while he was serving on active duty. Greene's state representative, Lonnie Reed will also be there.
"When Sarah reached out to me a year ago, sharing her courageous story, and raising concerns about her college-aged children and the cost of education, I knew immediately that we must do more to make sure Sarah's children, and other spouses and children of service members who have made the ultimate sacrifice, are granted access to full VA education benefits," Blumenthal said. "We owe a great debt to our surviving military families, and I am dedicated to ensuring that all support services that [Veteran Affairs] has to offer are made available."
Blumenthal said the bipartisan legislation includes a provision that will expand benefits to surviving spouses and dependents who lost a service member between Sept. 11, 2001 and Dec. 31, 2005. That includes post-9/11 GI Bill benefits and access to supplemental funding through the Department of Veteran Affairs' Yellow Ribbon Program.
Copyright 2016 WFSB (Meredith Corporation). All rights reserved.