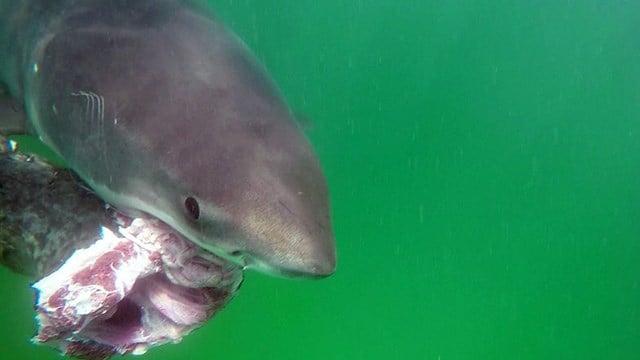 This female shark was photographed off the coast of a Cape Cod wildlife refuge on Monday. (@A_WhiteShark photo)
Chatham, MA (WFSB) -
The first great white shark of the research season was spotted off the coast of Cape Cod Monday, according to marine officials.
The Atlantic White Shark Conservancy said the shark has not been previously identified, meaning that she's "new."
It marked her as part of the population study that's in its third year of five.
Dr. Greg Skomal of the Massachusetts Division of Marine Fisheries captured some GoPro footage of the shark chowing down on a seal.
He said it was an 11 foot female that was spotted 300 yards from the Monomoy National Wildlife Refuge, which is 11 miles away Chatham.
To support the AWSC's shark research, check out its website here.
Copyright 2016 WFSB (Meredith Corporation). All rights reserved.