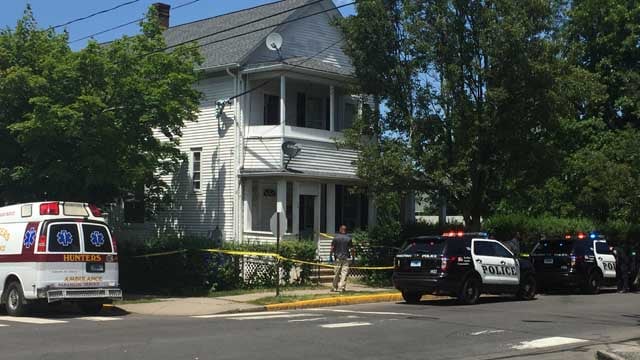 A person was stabbed at a home on Grand Street in Middletown. (WFSB photo)
MIDDLETOWN, CT (WFSB) -
Middletown police are investigating a stabbing that happened in the downtown area on Tuesday.
The stabbing reportedly happened at a home on Grand Street, but the victim was found about a half mile from the home, on Main Street in front of a Liberty Bank. He was trying to walk to the nearby hospital.
Police said they were called to the home after a report of a stabbing. They believe there was an argument at the home.
"Some type of laceration. We don't know for sure but have to wait for the medical reports to find out what happened," said Middletown Police Lt. Heather Desmond.
The victim's condition is unknown at this time.
Neighbor Delores Hunter lives a few doors down from the crime scene and knows someone who lives in the multi-family home.
"I was concerned because my good friend lives at the bottom and thought it was them, that's why I went over there and an officer told me that a young man got stabbed from upstairs," Hunter said.
Hunter said there are a lot of children in the area, but she doesn't believe they were around at the time of the incident. She said the area has improved, but it used to have problems.
Anyone with information about the stabbing should contact police.
Copyright 2016 WFSB (Meredith Corporation). All rights reserved.