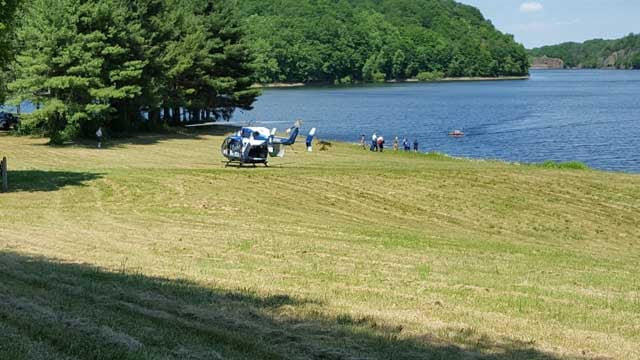 LIFE STAR called to Ragged Mountain after a cliff jumper was injured. (iwitness)
BERLIN, CT (WFSB) -
A man was injured after jumping off a cliff in Berlin on Wednesday afternoon.
The incident took place at Ragged Mountain near the New Britain town line around 2:30 p.m. A friend of the jumper called 911 and said the man was conscious.
The fire department reached the jumper, who in the water, and got him on their boat. Firefighters could not comment on the extent of injuries, but said Life Star medical helicopter was called to the scene due to a head injury.
Police said children often trespass on the property and swim in the area. Police said they expect charges to be applied for trespassing to those involved.
Stay with Eyewitness News for updates on air and online.
Copyright 2016 WFSB (Meredith Corporation). All rights reserved.