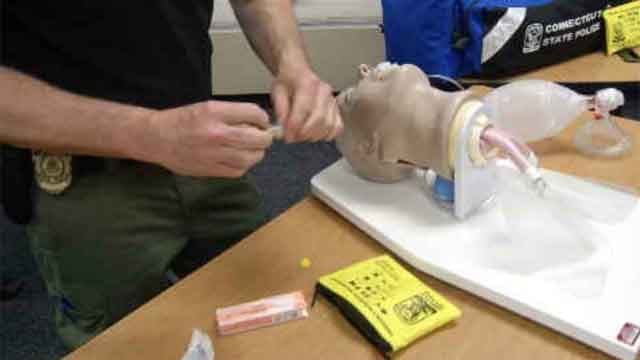 Narcan helped save a man's life in North Haven. (WFSB file)
NORTH HAVEN, CT (WFSB) -
Narcan is being credited with saving a man's life in North Haven after police said he had overdosed on Heroin on Wednesday.
Officers were called to report of an unresponsive 19-year-old man at a home on Carriage Drive. Upon arrival, officers found "drug paraphernalia consistent with recent Heroin use."
The officers used a dose of naloxone, which is also known as Narcan, on the man, who was revived by the opioid antidote.
Police said Wednesday's non-fatal overdose was the sixth Heroin overdose in North Haven over the past three weeks.
Police are looking for the public's help locating information on the sale, source or operation of Heroin distribution in North Haven. Anyone with any information is asked to call the North Haven Police Department Investigative Services Division at 203-239-1616.
Copyright 2016 WFSB (Meredith Corporation). All rights reserved.