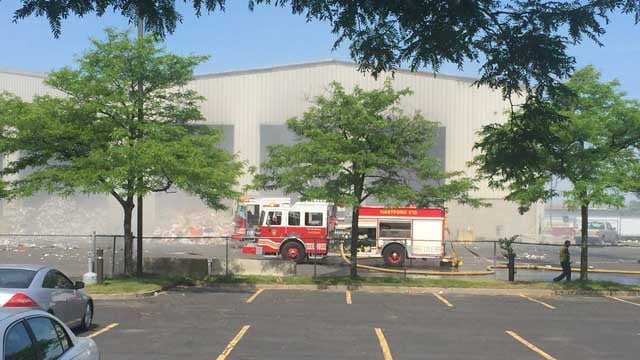 (WFSB photo)
HARTFORD, CT (WFSB) -
Firefighters are on the scene of a fire at a trash museum in Hartford that left one worker hurt.
Police said it was reported at the MIRA Trash Museum on Murphy Road Monday morning.
Murphy Road remained closed as of 10:30 a.m.
Crews began clearing the scene just before 11:30 a.m.
Firefighters reported heavy smoke conditions when they arrived.
They said the fire was found to be in the middle of some debris. Payloaders had to be brought in to get to it.
One worker had to be treated for a back injury. The worker was transported to a local hospital.
There's no word on a cause.
The museum said it permanently closed on Friday.
Exhibit space in it focused on "materials management" and innovative recycling technology.
The museum had previously been owned by the Connecticut Resources Recovery Authority.
Copyright 2016 WFSB (Meredith Corporation). All rights reserved.