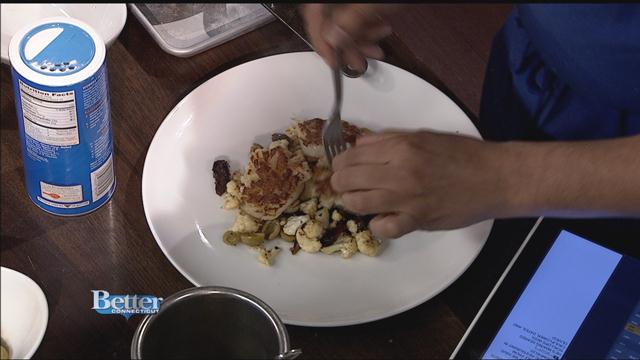 Steven Wolf from the Republic Restaurant in Bloomfield is showing us how to make this delectable dish! Click the link on the video for more on Republic.
Seared Scallops with cauliflower, Dates and Olives
Ingredients:
Serves 2 people
Cauliflower cut in 1" florets- 2 cups
Dates, sliced- 3 oz
Green olives, cut in half 3 oz
Reisling wine, sweet 4 oz
Parsley, chopped 2 pinches
Extra virgin Olive oil ( as needed) appx 3 oz
Directions:
Med heat saute cauliflower. Place in oven at 375. Approx. 5 min In pan add dates, olives and deglaze with reisling wine. Season with salt, pepper and EVO to taste. ADD Parsley.
Separate pan Med/Hot Season scallops, sauté both sides until golden brown.