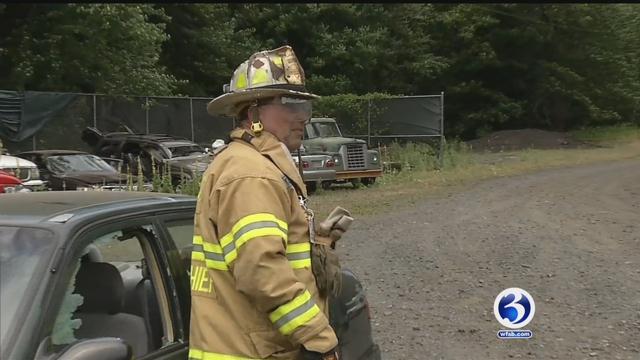 Glastonbury firefighters show how they would save a child in a hot car. (WFSB)
GLASTONBURY, CT (WFSB) -
A Connecticut company teamed with a local fire department to show the dangers of leaving children in hot cars.
Just one week into summer, 16 children have died after being left in hot cars. That's more than double last year's number in the same time frame.
Monaco Ford teamed up with the Glastonbury Fire Department to show firsthand how fast a car can heat up and what you can do to quickly get someone out of danger.
People are being advised to look before you lock.
On Monday, it was about 90 degrees when their demonstration took place. Inside the car it got up to 110 degrees. In a hot car, children's body temperatures rise even faster than adults.
"It's unbearable to think there is a child that's locked in a car seat that can't do anything and hope a passerby sees them or their parent comes back in time," Chrissy Monaco with Monaco Ford said.
If you see a child or pet locked in a hot car, the best part of the window to break is the bottom corner.
Copyright 2016 WFSB (Meredith Corporation). All rights reserved.