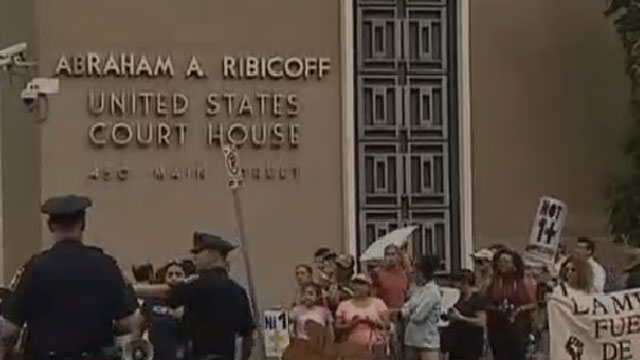 Nine protesters were arrested at immigration rally in Hartford. (WFSB)
HARTFORD, CT (WFSB) -
Nine people were arrested after an immigration rally on Monday afternoon.
The group called the Connecticut Immigration Rights Alliance held a rally at the Federal Building in Hartford around 3:30 p.m. The rally, which was attended by between 200 to 250 people, was to demand justice for immigrant communities.
During the rally, nine people were charged with disorderly conduct. The following people were arrested:
Joseph Foran, 29, of Tolland,
Mariacamila Bortolleto, 28, of Brookfield,
Gabriela Rodriguez,19, of Bridgeport,
Mark Colville, 54, of New Haven,
John Lugo, 50, of New Haven ,

Renato Muguerza, 24, of Cheshire,

Lucas Codognolla, 25, of Stamford,

Erik Munoz-Onofre, 19, of New Haven

Alok Bhatt, 29, of Hartford,
The arrests came after a large group of people carried a large banner across Main Street. The group blocked northbound and southbound traffic.
Police warned the protesters to move, however they ignored the officers commands and were arrested.
Copyright 2016 WFSB (Meredith Corporation). All rights reserved.