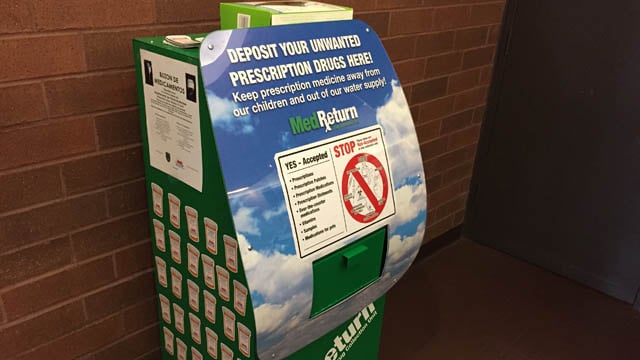 One of the drug deposit boxes at the Meriden Police Department. (WFSB photo)
MERIDEN, CT (WFSB) -
After reports of drug overdoses in Meriden, officials planned a news conference to discuss new laws an initiatives to help curb the problem.
State Sen. Dante Bartolomeo, Meriden Police Chief Jeffry Cossette and officials from other health services said Meriden has seen half a dozen opioid overdoses over the past two days.
Bartolomeo said they marked a 500 percent increase between 2012 to 2015.
She spoke about new state laws that takes effect on Friday, including one that puts a seven-day limit on opioid prescriptions and another that strengthens a drug monitoring program.
She also reminded the public about the availability of drug drop-off boxes at local police stations, including one at the Meriden Police Department.
Last week, officials in New Haven reported that three people died from potentially fentynol-laced heroin. More than 20 other people overdosed. It all happened over a 24 hour period, forcing them to declare a public health emergency.
They warned that the tainted drugs could have spread beyond the borders of the Elm City.
Three people were arrested as part of the investigation into those overdoses.
Copyright 2016 WFSB (Meredith Corporation). All rights reserved.