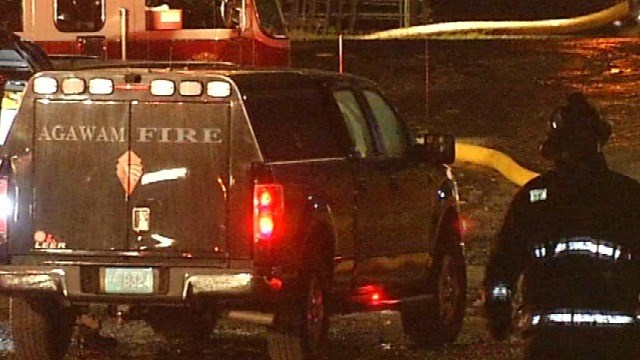 Crews knock down fire that killed one horse at barn. (WFSB)
AGAWAM, MA (WFSB) -
Investigators are trying to figure out what started a deadly horse barn fire.
Crews were called to Crowley's Sales Barns and Stables around 9:30 p.m. on Tuesday just north of the Connecticut line in Agawam, MA.
According to firefighters, one horse was trapped inside the barn and died.
The other animals and handlers escaped.
At the very least, the fire damaged part of the business.
"It's just really sad and heartbreaking and terrifying at the same time because I'm right across the street and the flames were at least 120 feet high," said eyewitness Nikita Peabody.
Because the barn was far from the road, it took crews longer to get the fire under control, said firefighters.
A GoFundMe page has been set up to help the family and horses recover.
Copyright 2016 WFSB (Meredith Corporation). All rights reserved.