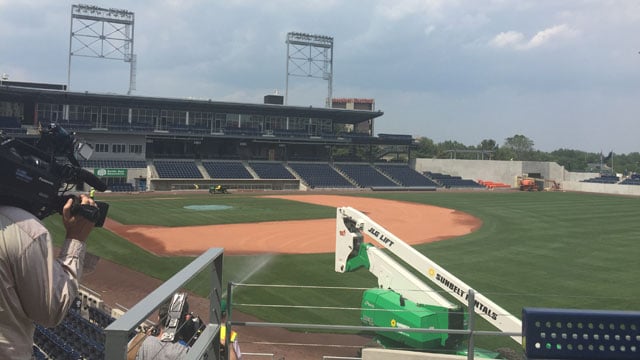 Dunkin' Donuts Park. (WFSB photo)
HARTFORD, CT (WFSB) -
The city of Hartford rejected the plan submitted by the developer of Dunkin Donuts Park to finish the job.
Centerplan submitted a proposal late last week to finish the job, saying they would foot the bill.
Eyewitness News obtained a copy of the proposal submitted to the city. The proposal asks for more money and requires the city to drop any legal challenges.
Members of the Stadium Authority said Centerplan would have to do a lot more than submit a proposal to get back on the job.
"They have not, given our liquidated damages, they have not given us our $1.7 million we were supposed to get when we cut the last deal. We simply can't trust them. I don't believe they have the financial capability," said Charles Matthews of the Hartford Stadium Authority.
Hartford Mayor Luke Bronin released a statement saying the settlement proposal did not warrant serious consideration, and the actual proposal did not say Centerplan would fund the completion of the project.
"What we got from Centerplan is not a serious proposal, and it's nothing like what Centerplan described to the press and to the public last week. Even though Centerplan's CEO Bob Landino said that Centerplan would offer to fund the balance of the work to complete the ballpark, their actual proposal includes no such commitment and - once again - expects the taxpayers to foot the bill for Centerplan's mistakes and cost-overruns. We're willing to have good faith negotiations about real proposals, but it's clear that Centerplan was posturing to get some headlines last week and wasn't serious about taking responsibility," Bronin said.
Copyright 2016 WFSB (Meredith Corporation). All rights reserved.