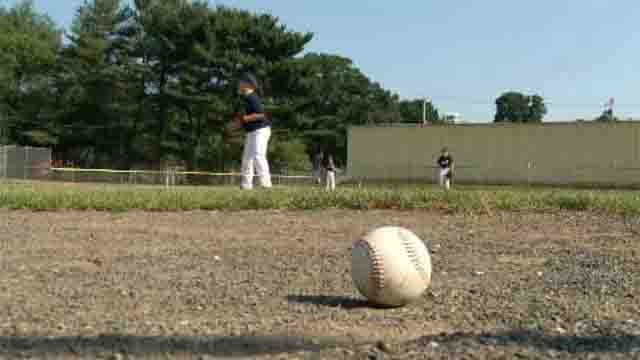 While many people stayed inside on Wednesday in the air conditioning, hundreds of young Connecticut athletes had to hit the field. (WFSB)
WALLINGFORD, CT (WFSB) -
While many people stayed inside on Wednesday in the air conditioning, hundreds of young Connecticut athletes had to hit the field.
Before the tournament started at Yalesville Little League, the athletes prepared for the grueling temperatures.
"You get really sweaty and tired really easily and you just have to make sure you drink a lot of water," said Little Leaguer Anthony McNamara.
By game time, the players knew manager James LaRosa's heat guidelines—there were unlimited water breaks, and strict instructions to leave the game if you weren't feeling 100 percent.
"It's more important for them to understand that as much as you want to play, take a break, and let somebody else do it and then collectively we'll actually do a better job if each of us are rested at the position," said Southington North Coach James LaRosa.
Little League parents like Christine Pastore are just glad the managers are stressing the safety so that the children can focus on having fun.
"I know the coaches are really good with them and they make sure they don't get overheated," Pastore said.
To check out some cooling centers or splash pads in the state, click here.
Copyright 2016 WFSB (Meredith Corporation). All rights reserved.