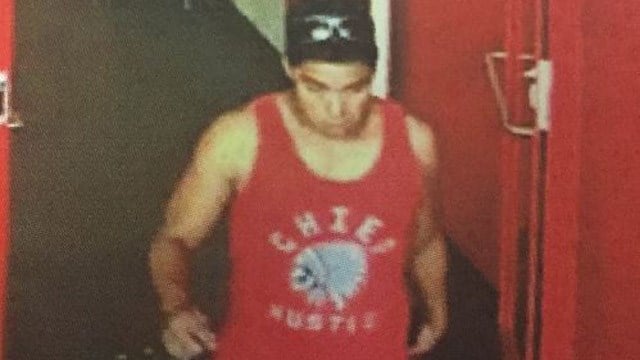 (South Windsor police photo)
SOUTH WINDSOR, CT (WFSB) -
Police in South Windsor said they're looking for someone who was spotted photographing underneath dressing room doors at a store.
They said the suspect took the pictures around 6 p.m. Sunday at the Target store on Buckland Hills Drive.
"A customer noticed this activity going on. He then noticed he was being observed, left the store, by the time the security was able to notify the police department he was gone," said South Windsor Deputy Chief Scott Custer.
This has happened at the same Target before. Last summer, police arrested 25-year-old Peter Krystofalski for allegedly angling his camera from a shopping basket and filming up women's skirts.
The suspect from Sunday's incident is described as a man who stood about 5'9" tall and had spiked brown hair.
A surveillance photo of the suspect was released that showed him wearing a red tank top with a chief's head on it. He also had sunglasses on his head.
Police said they do not think the man was actually successful in taking a picture, because they say when the customer noticed him putting the phone under, he got out of there quickly.
Anyone with information is asked to contact the South Windsor police officer Tina Mazzoccoli at 860-644-2551.
Copyright 2016 WFSB (Meredith Corporation). All rights reserved.