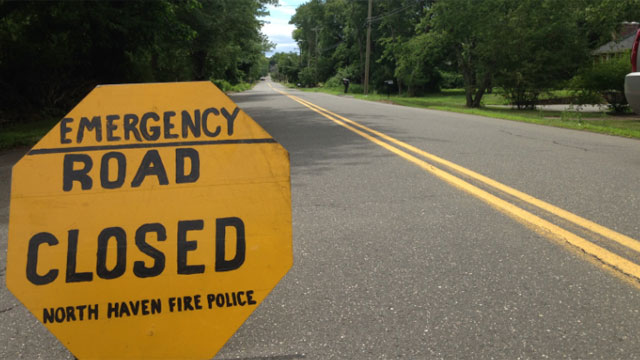 Hartford Turnpike in North Haven is closed after a serious crash. (WFSB)
NORTH HAVEN, CT (WFSB) -
Two people are in critical condition after a serious car crash in North Haven on Monday morning.
Officers were called to a one-vehicle crash on Hartford Turnpike around 11:30 a.m. The call to police stated that the vehicle had rolled over and an unidentified man was trapped underneath it.
Upon arrival, police learned that the vehicle had "some type of engine problem" and pulled over to the side of the road.
However, after one of people inside the vehicle got out, police said the vehicle "then sped in reverse, crossed the road striking a barrier, and rolled over." It is unknown what caused the crash.
The driver was "partially ejected" and police said became "trapped under the vehicle."
Police said the driver and an unidentified passenger were rushed to a hospital in the Hartford area where they are in critical condition.
Hartford Turnpike was closed between Upper State Street and Leighton Court for the police investigation, however it has since reopened.
The crash remains under investigation. Anyone with any information about the crash is asked to call the North Haven Police Department at 203-239-1616.
Copyright 2016 WFSB (Meredith Corporation). All rights reserved.