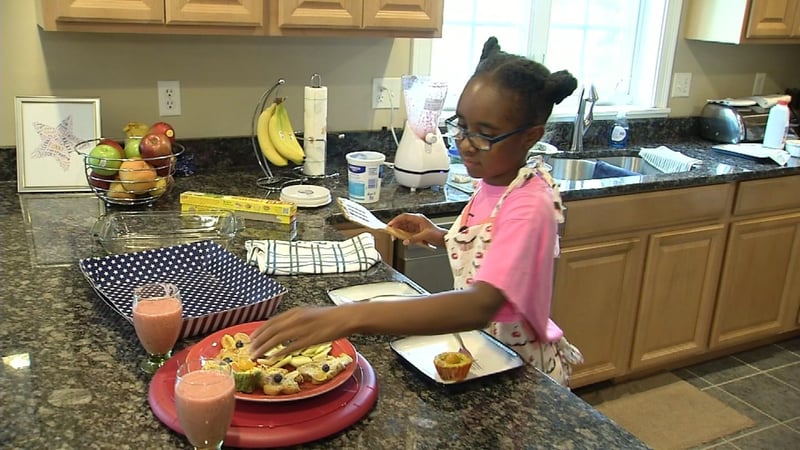 springtime lunchtime made by Kalaya Moore. (WFSB)
WINDSOR, CT (WFSB) -
Kalaya Moore is getting the chance to meet the First Lady after winning a national cooking contest. Kalaya, of Windsor, is one of 56 young chefs, who won Obama's Healthy Lunchtime Challenge.
Here is recipe for springtime lunchtime made by Kalaya:
Four Servings - 200 calories, 8g fat, 16g carbohydrates, 16g protein
INGREDIENTS:
Bird's Egg Nests:
4 eggs
1/2 cup cooked chicken
1/2 cup shredded carrots
2/3 cup alfalfa sprouts
8 sprigs cilantro
8 yellow cherry tomatoes, halved
French Toast Flowers:
1 egg
1 tablespoon milk
1/4 teaspoon cinnamon
1/4 tablespoon butter
2 slices whole-wheat bread
1 cherry tomato, halved
2 blueberries
Bird's Apple Nest:
1 medium apple, peeled and cored
12 blueberries
Smoothie:
1 cup of nonfat plain yogurt
1 cup of banana
1 ½ cup of strawberries
PREPARATION:
1. To make the Egg Bird's Nest:
Preheat the oven to 350 degrees.
Oil 4 muffin cups and place in a muffin tin pan.
In a small bowl, mix one egg with a fork. Pour the egg into a muffin cup. Repeat with the next three muffin cups.
Place muffin pan in the oven for 4 minutes.
Remove from the oven and add 1/4 of chicken, carrots, sprouts, cilantro, and tomatoes into each egg.
Place muffin pan back into oven and cook for another 15 minutes.
Take out and let cool for 3 minutes; cover to keep warm.
2. To make French Toast Flowers:
Mix the egg in a bowl with milk and cinnamon.
In a large nonstick skillet, melt the butter on low heat.
Use a flower-shaped cookie cutter to cut 2 flower shapes out of each slice of bread.
Dip and cover the bread flowers in the egg mixture.
Add to the pan and cook for 2 minutes on each side or until golden brown.
Transfer to plates.
Add a halved cherry red tomato in the center of 2 of the French toast flowers and a blueberry in the center of the other 2 French toast flowers.
3. To make the Bird's Apple Nest:
Cut the apple into spirals or cut around as if peeling to make the bird's nests out of the apple. It will make four small bird's nests.
Top each bird's nest with 3 blueberries.
Serve 1 Egg Bird's Nest, 1 French Toast, and 1 Apple Bird's Nest on each plate.
4. To make the Smoothie:
Add 1 cup of nonfat plain yogurt to blender.
Take 1 large banana and measure cup of the banana. Add the 1 cup of banana to the blender.
Then add washed fresh strawberries that have been cut in half. Remember to take the leaves off the tops of the strawberries.
Blend for about 30 - 60 seconds.
Pour into two glasses.
Copyright 2016 WFSB (Meredith Corporation). All rights reserved.