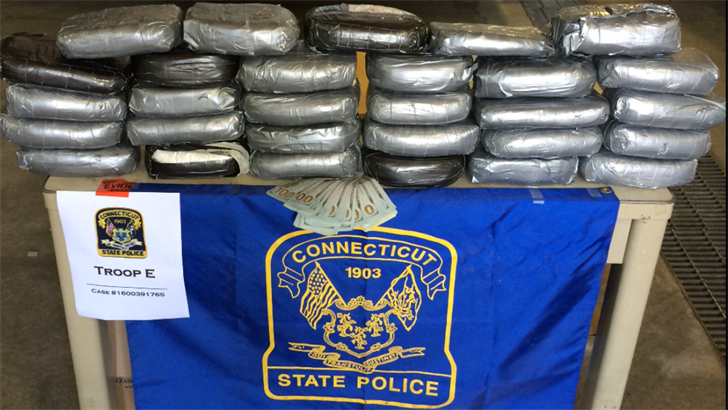 Police seized 29 kilograms of cocaine during traffic stops in Groton. (CT State Police)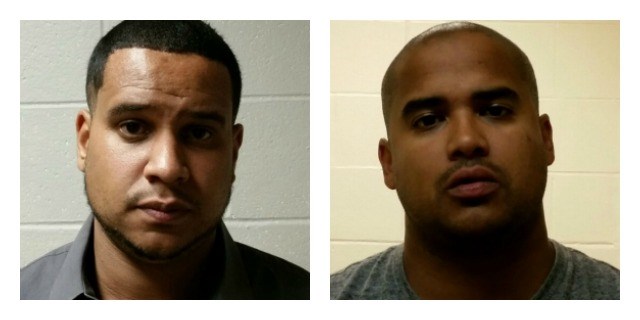 Arnulfo Hiciano and Giovanni Carmona were arrested in connection with the drug seizure. (CT State Police)
GROTON, CT (WFSB) -
Connecticut State Police arrested two Rhode Island men and seized 29 kilograms of cocaine during traffic stops in Groton on Wednesday.
The incident started when troopers stopped a 2014 Dodge Ram Truck and a 2012 Nissan Maxima on Interstate 95 near exit 88. Police said the two vehicles were seen "weaving in and out traffic."
During the stop, troopers learned that 29 Kilograms of cocaine individually packaged inside the two cardboard boxes in the trunk of the vehicles. Police said the street value of cocaine was about $2.9 million.
Police also seized 29 kilograms of powdered cocaine and $5,472.
Police charged 33-year-old Arnulfo Hiciano, of North Providence, RI, and 31-year-old Giovanni Carmona, of Providence, RI, with failure to maintain established lane, possession of cocaine and possession of cocaine with intent to sell.
Hiciano and Carmona were scheduled to be arraigned at New London Superior Court on Thursday. Both are being held on $100,000 bonds.
Copyright 2016 WFSB (Meredith Corporation). All rights reserved.