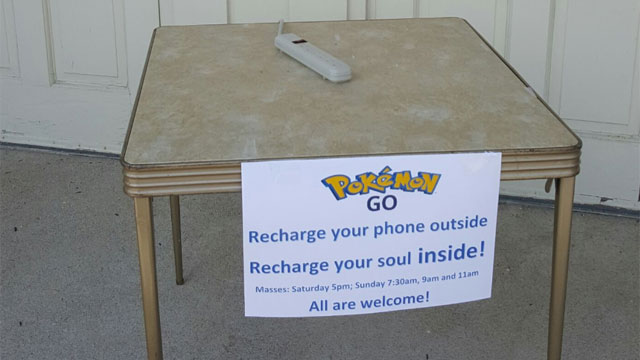 A "recharging station" was setup at Scared Heart Church in Southbury for Pokemon Go gamers.
SOUTHBURY, CT (WFSB) -
A Connecticut church is encouraging visitors after finding out they are part of the Pokemon Go.
Father Joe Donnelly at Scared Heart Church in Southbury recently learned they were multiple poke stops and a Pokemon training gym. These are features in the video gaming craze known as Pokemon Go.
"We've seen a decent stream of people," Donnelly said.
The church's administration and priest are encouraging those playing Pokemon Go to come on their property. They even setup a charging station outside for players to recharge their smart phones.
Donnelly said those ideas came from Ami Conlan, who oversees the Youth Ministry at Scared Heart Church.
They are currently two signs posted on the church property:
"While you are here, pray for peace. Our world really needs it!" (This sign is posted at Peace garden)
"Recharge your phone outside; recharge your soul inside." (This sign also a schedule of our masses)
Copyright 2016 WFSB (Meredith Corporation). All rights reserved.