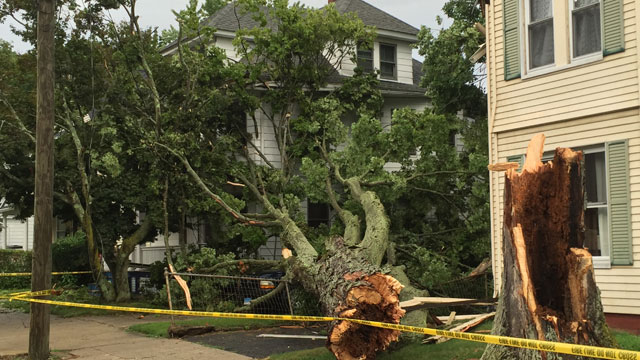 Tree hits home in Ansonia. (WFSB)
ANSONIA, CT (WFSB) -
A storm brought down a tree in Ansonia on Monday, which hit two homes and a car.
Branches hit two homes on Garden Street at about 5 p.m.
Fire officials at the scene said one home sustained minor damages, however they could not immediately enter the second home due to live wires.
Nobody was at either of the houses impacted when the tree came down.
Caitlin Lonergan was at work when she got a call from her neighbor.
"That our tree had been struck by lightning and it fell on our house, plus the neighbors house," Lonergan said. "I didn't realize the tree was that big until it was on that ground and it reached all the way to their house and pushed right against the side."
Trees also came down in New Haven, and at the St. Bernard's Cemetery, knocking over headstones in the process.
The strong winds are believed to be the cause of the downed trees.
Copyright 2016 WFSB (Meredith Corporation). All rights reserved.