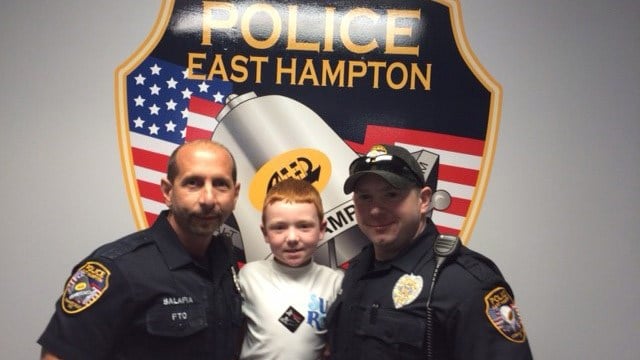 Police said this 7-year-old used his birthday money to buy them bagels and doughnuts. (East Hampton police photo)
EAST HAMPTON, CT (WFSB) -
A 7-year-old boy took it upon himself to use his own birthday money show how much he appreciated his local police officers.
The boy, who is a student at East Hampton's Center School, told police that he wished to thank them for helping out with a recent parade.
"We're sorry eight police officers died in the past few weeks," he wrote in a thank you not to the East Hampton Police Department.
Police said the boy used his birthday money to buy bagels and doughnuts for the department.
"It is so nice to know that our officers are recognized and appreciated for what they do every single day," police said in a news release.
Over the last two weeks, five officers were killed in Dallas and three were killed in Baton Rouge. They were victims of ambush-style assaults following racial tensions, according to investigators.
Copyright 2016 WFSB (Meredith Corporation). All rights reserved.