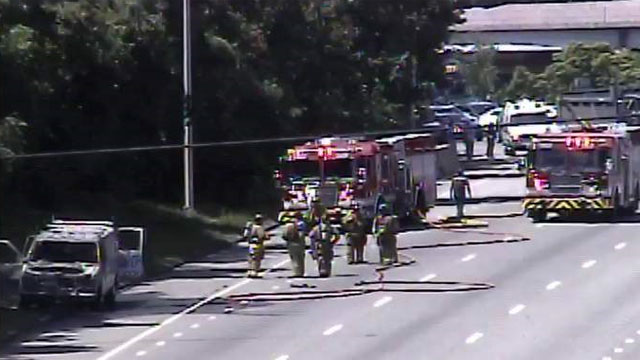 Firefighters on the scene of a van fire on I-84 in West Hartford. (CT DOT)
WEST HARTFORD, CT (WFSB) -
A motor vehicle fire involving a van carrying pool chemicals closed part of Interstate 84 in West Hartford on Tuesday morning.
A passenger Econoline van was carrying chlorine when state police said the vehicle caught on fire near exit 44 around 11:30 a.m.
Officials from Connecticut Department of Energy & Environmental Protection were called to the scene. DEEP officials determined most of the chemicals were destroyed in the fire.
DEEP said there was "no cleanup required," but "Trout Brook was impacted with chlorinated fire water runoff." Firefighters flushed Trout Brook with water to "dilute the chlorine," DEEP said.
There were no reported injuries, police said.
The cause of the crash is under investigation.
The eastbound side of I-84 was closed between exits 43 and 44 after the fire.
The left lane reopened just after 12:30 p.m. The whole area reopened around 1:30 p.m.
To check traffic in your area, click here.
Copyright 2016 WFSB (Meredith Corporation). All rights reserved.